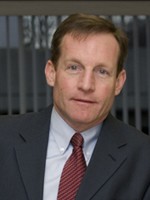 Rob Hoynes, ChFC®, works with business owners, company executives and individuals who seek advice in Wealth Management and Business Succession strategies. He specializes in assessing a clients financial situation and objectives and guiding the client toward building a plan to meet those goals.
He has helped business owners in establishing company retirement plans as well as healthcare plans for the benefit of family members and employees. Rob is very familiar with company executive benefit plans such as deferred compensation, stock options and 401k plans.
Rob is a graduate of West Point and went on to earn a Masters of Science in Business Administration from Boston University. He holds several registrations and licenses in investments and insurance across many states.
Rob and his family live in Cheshire. He is an active member in the Chamber of Commerce in both Cheshire and Harwich, Massachusetts. He is involved in his church as well as coaching his children in various sports.
Some warning signs that you might not be ready to go full speed ahead with the transition from worker to retiree.

In 2013, Japan's economy and stock market showed promising signs of progress after 15 years of deflation.

A closer look at how pensions operate and why it might not be wise to rely solely on a pension when assessing retirement income needs.

When it comes to taxes, the giver could face tax liabilities that do not apply to the receiver.
How much will it cost to pay off a loan over its lifetime?

Determine whether you should consider refinancing your mortgage.

How Long Will It Take to Pay my Balance?